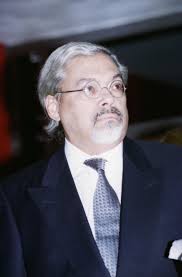 Guillermo Cabrera Infante (b. 1929 Cuba) was a Cuban novelist, essayist, translator, screenwriter, and critic. His novel Tres Tristes Tigres (published in English as Three Trapped Tigers) has been compared to James Joyce's Ulysses.
Infante began studying journalism in 1950 at the University of Havana. From 1954 to 1960, he wrote film reviews for the magazine Carteles. Infante used the pseudonym G. Caín, and in 1957, he became its editor in chief still under his pseudonym. In 1959, he was named director of the Instituto del Cine.
In 1966, Infante published Tres Tristes Tigres, a Joycean novel that was considered highly experimental. He also co-wrote the script for Richard C. Sarafian's 1971 cult film Vanishing Point under the pseudonym Guillermo Caín.
In 1997, King Juan Carlos of Spain presented the Premio Cervantes to Infante. Infante died in 2005 in London.