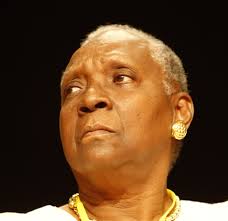 Maryse Condé (b. 1937 Guadeloupe) is a prolific novelist, playwright, and critic. Her books explore the clash of cultures and races, particularly in African and Caribbean settings. Condé was educated in Paris, and having lived in Ghana, Senegal, and the Ivory Coast as well as in the United States, Conde has drawn on her rich experiences to create novels that "attempt to make credible . . . the human complexities involved in holy wars, national rivalries, and the migrations of peoples" (WLT 59:1, p. 9).
In 1993, Conde was the writer in residence for the fourteenth Puterbaugh Conference on World Literature at the University of Oklahoma, hosted by World Literature Today (see WLT 67:4, Autumn 1993). Her works have been reviewed in the pages of Books Abroad and World Literature Today for over thirty years, beginning with the publication of her first book, the play Dieu nous Va donne in 1972 (see BA 47:3, p. 601).
In 1997 Conde was awarded the Prix Carbet de la Caraibe for her novel Desirada. She has also been the recipient of the Marguerite Yourcenar Prize for Tales from the Heart and of a Lifetime Achievement Award from New York University's Africana Studies Program. In 2001 she was named a Commandeur de l'Ordre des Arts et des Lettres by the French government. Her book of interviews with Franchise Pfaff, Conversations with Maryse Conde, was published in 1996. Her latest book, Victoire: My Mother's Mother was published in 2010.